Project conferences and publications
International workshop: Gender, migration and transnational communication
Volos 6 November 2004
Papastratos complex, floor 6, room 13.
The main goal of the workshop was to study the gendered aspects of migration in contemporary Europe. Treating the issue of migration as a transcultural practice and studying it in an interdisciplinary context, the workshop focused on the social relations and practices of migrant men and women, the role of women in the formation of transcultural communication networks and in the maintenance of family relations, as well as on the reconceptualization of "work" in the context of the "feminization" of migration. Special emphasis was given to issues regarding migration in Southeastern Europe, the interplay of gender, national identity and religion in the new world order, as well as to shifts in the division of labor in the context of contemporary forms of migration. The workshop aimed at developing new insights related to the study of migration in Greece and at getting feedback from colleagues working on relevant projects, but in different geographical contexts.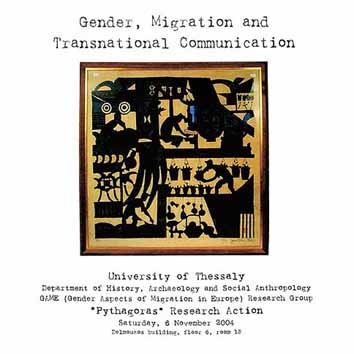 The conference poster.