Project conferences and publications
International conference: Gendered Aspects of Migration in Southeastern Europe
Volos 30 November – 2 December 2007
Friday 30/11: Saratsi Amphitheatre, Papastratos complex
Saturday 1 and Sunday 2 December: Main University Library, Room D1
This conference will present some of the major findings of the research project Gendered Aspects of Migration from Southeast Europe, carried out between March 2004 and December 2007, sponsored by the Pythagoras program of the European Union "4.2.1å Support of University research groups on gender issues".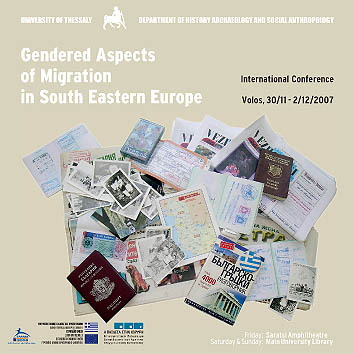 The conference poster.
The research project aimed at examining migration as a gendered experience through the life stories of male and female migrants from Albania and Bulgaria to Greece. These two target groups have been selected both because they are statistically the most important groups of new migrants and because they present very different migration patterns and therefore lend themselves to a comparative analysis. The project explored the gendered experiences of these two migrant groups in three interrelated thematic fields. The first theme, public culture, looked at how men and women remembered their experiences of the communist past and how these memories have contributed to the formation of new migrant identities and coping strategies in the host country. The second theme, labour, explored the contribution of migration to the reconceptualization of "work" and its effects on gender relations, in the context of the new informal labour market. The third theme, trans-cultural communication, looked at the role of migration in the formation of hybrid forms of trans-cultural communication that include the exchange of cultural products, information technologies, ideas, attitudes and practices. During the conference we will discuss our findings in a comparative perspective with colleagues working in similar fields and try to develop new theoretical insights related to the issues of gender and migration, mobility, state policies, and cultural politics.