Methodology and Research Tools
Detailed questionnaire templates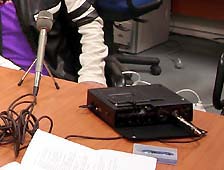 The interviews were organized under three thematic subfields (labor, historical culture, transcultural communication). Based on the analysis and transcription of former interviews we formed three interview schedules, one in each thematic subfield.
The age and lived experience of the informant is a very important factor when we study societies which the last twenty years have experienced great social and political changes. Therefore, we adopted an intergenerational approach and we explored whether the two (or possibly three) generations of migrants who live nowadays in Greece have experienced and interpret their past and present in a different way, especially in relation to gender relations. The analysis of the generation's role underlies all three thematic subfields.
Based on the lived experiences of the informants we defined three different age groups:
The young (18-30 years old): persons who came to Greece at a young age (during their adolescence or their childhood), came of age in Greece and were mainly socialized in Greek schools.
The middle-aged (35-55 years old): persons who experienced the communist and transition period during their adulthood, and were mainly socialized in Greece through their working experience.
The elderly (over 60 years old): persons who lived and remember the pre-communist period as well. Since, according to the available statistical data, this last age group is under-represented in the migrant population living in Greece, informants of this age group were not selected for the pilot interviews. Moreover, in the overall interview schedule we planned only a small number of interviews with people of this age group, in relation to the thematic subfield of "historical culture". Despite their small number, though, these interviews gave us the chance to comparatively analyze gender relations as these were historically formed and transformed from the pre-communist period up to present. It turned out that the cases where it was possible to study the lived experiences of two or three age groups within the same family were of particular interest.